Women's Outpatient IOP & PHP
Welcome to the Empower specialized women's outpatient program at Ridgeview Institute Smyrna where we focus on the whole person. Our outpatient offerings include a Partial Hospitalization Program (PHP) and an Intensive Outpatient Program (IOP) designed to treat the unique psychiatric and addiction challenges that women face. These options provide our patients the flexibility to attend at the times that fit into their schedules.
Patients participate in several group therapy sessions and psycho-educational/skills groups that focus on trauma-informed care. In addition to group work, they have the opportunity for other expressive/recreational activities. Through our program, patients learn to identify their specific triggers that have led to maladaptive behaviors. Understanding the connection between triggers and behaviors is a centralized aspect of the program which allows for the creation and adaptation of new self-regulation and other coping skills.
JOINT COMMISSION ACCREDITED
The Joint Commission is an independent, not-for-profit organization which certifies health care organizations and programs across the U.S. Their seal is a symbol of quality in an organization's commitment to meeting certain industry standards.
Ridgeview Institute has been awarded the Joint Commission's Gold Seal of approval, which speaks to our dedication to ongoing quality care, patient safety, and best practices.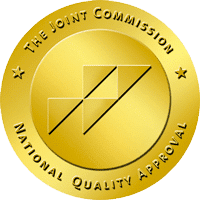 WE ARE AVAILABLE TO OUR PATIENTS 24/7
WE OFFER FREE ASSESSMENTS; WALK INS ACCEPTED
Ridgeview Institute is here to guide your journey toward mental wellness. For your convenience, we offer 24/7 assessments at no cost. If you or a loved one is struggling with a mental health or substance abuse issue contact us to see how we can help.